How to find a good Old Violin
Old Violin hunting is a bit like treasure hunting.  We probably look at over 1,000 violins for each one we purchase.  Here are some of the criteria we use:
Age – we rarely buy violins that are less than 50 years old.  Usually they are much older.  This is simply because aged wood usually sounds better.
Quality of Wood, craftsmanship & varnish – the violin should be beautiful.  This means we avoid violins that look like they were factory made or spray painted.
Reputation of the maker.  We prefer violins made by known makers.  Our least expensive old violins are German mass produced violins about 100 years old.  Many of these are excellent quality and very affordable.  Most of these violins never get posted on the web site… so if you have a modest budget, we still probably have a great violin for you.
Cost – in order to sell a good violin at 30%-40% discount, we have to be able to buy the violin below that amount including repairs & necessary parts.
Repairs.  While it would be nice to only buy violins in perfect condition, that is often not possible given the age of the instruments.  Repair costs can vary greatly.  You may want to visit with your local luthier and see if they will give you a list of common repairs with costs.  Common repairs:

New strings
New pegs
Glue open seams
Plane fingerboard
New sound post
New bridge
Top crack repair

Repairs to avoid or at least be aware of:

Cracked peg box – difficult to repair and problematic
Back sound post crack – devalues the violin by 20%
Top sound post crack – devalues the violin by 10%
Sound post patches are expensive!
Bass Bar crack – difficult and expensive to repair
Where do you find an old violin?
Pawn shops will occasionally have a good violin.  I once paid $400 for a great violin in near perfect condition.  These are pretty rare.  I have a friend who found a $40,000 for which he paid a couple hundred dollars.  That is like winning the lottery!
Estate sales or garage sales.  Many children and grandchildren of violinists do not play and will eventually offer these instruments for sale.
Check your local CraigsList and OfferUp sites and other local classified ads.
Online Auctions.
High School or University orchestra bulletin boards will list instruments for sale.
Buyer Beware!
When we first started 2 out of 3 violins were great finds… but 1 of the 3 we wish we had never seen.  These still got repaired and donated to a local non-profit orchestra for underprivileged kids.  Avoiding mistakes is much easier when you are able to hold the violin in your hands and examine it closely.  Internet photos are much more difficult.  If you do buy on the Internet, it's best if there is a return policy so you don't have to live with your mistakes.  Unless you plan to buy several violins, it may be best to buy from someone like us (or your local shop) – we've already found you a good deal and taken the time and care to properly restore the violin to excellent playing condition.
Good Luck – and Beware! (An old pirate motto)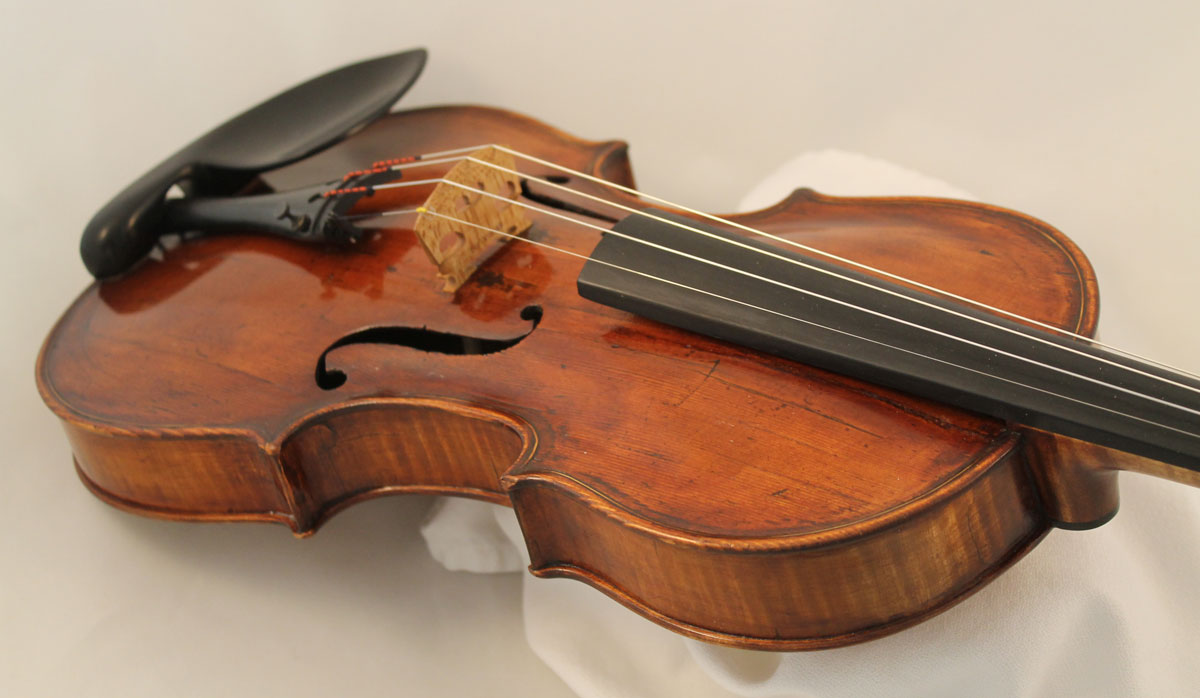 This old violin was labeled 1720 by Grancino.  Our best guess is that is was a composite violin and the bottom half was actually by Grancino.  It had a very old back sound post patch.  Marvelous sound!  Our daughter played this for several years before it found a new home.